Change for Change
"A way that I can change the world is if everyone were to pick up all of the change that they find on the floor and right away put it in a box. All of the money will go to poor people. You may think that change does not amount to anything but it does. With this idea you have to think of the long-term outcome. The reason why I chose picking up change from the floor is because some people may not have the money to donate. If you find some on the floor then you are able to do a good deed."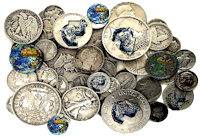 Stephanie Payamatos
LLHS - GRADE 11 - 2009 PDF Version
All year we will be encouraging our community to pick up change and donate it to charity.
In the past we have over extended our financial resources and as a result we have become ineffective at raising money for charity. In order to reverse this trend we have decided to focus on what we are already doing and to create uniformity to our process.
Each staff member will be given a CHANGE 4 CHANGE box to collect whatever money they find or whatever money they can in their world with the students. Each staff member will choose one initiative of the four school projects, but not limited to, that they would like to support for the year.
Students will be educated on each initiative, our goals and involved in the process of making a change through a simple intentional action.
OUR FOUR INITIATVES ARE:
SCHOOL COMMUNITY – HEATHER MCPHERSON / DANIEL JOHNSON
AVEC – Raising money for the Community Garden and paying off debt associated to the hockey rink. AVEC Blog
HOW: We already sell popsicles for AVEC and hold other fundraisers through Hockey Concentration. Collect your change to provide a safe place for students to gather. To create an environmental learning centre for our future generations of students in the far East parking lot area.

---

METRO DEPATIE SUPPORTS OUR GREEN CLUB WITH $1000.00 GRANT FOR COMMUNITY GARDEN

Laval Liberty High School wishes to thank Metro Depatie for its $1000.00 grant towards supporting the community garden project.

---

CHOMEDEY COMMUNITY – CHERYL SMITH
AGAPE – Raising money and non-perishable food products for the AGAPE food bank. The Youth and Parents AGAPE Association Inc.
HOW: We already host the Community Breakfast for AGAPE and donate food throughout the year. Collect your change to put food on the table for a family who needs it in our community.


Laval Liberty High School in conjunction with Laval Junior High School proudly donated $3819.00 to AGAPE on February 19th, 2010 as part of the money raised from its 9th Annual Holiday community Breakfast. Newspaper Article

Pictured are: Melanie Favron (student from Laval Junior HS), Richard Mason (Principal of Laval Junior HS), Cheryl Smith (Spriritual Animator), Sylvie St. Martin (Director of Agape), Betty MacLeod (Treasurer Agape), Ekaterini Kostopoulos (student from Laval Liberty HS), Eric Ruggi (Principal of Laval Liberty HS)

---

COMMUNITY INTERVENTION – KAREN CHYFETZ
CANCER RESEARCH – Raise money for Translational Research Centre at McGill University to find a cure for our families, colleges and students.
HOW: We already sell a student created cookbook. We will be hosting a yearlong ladder of 'shave to save' type activities. Sign up to be among the brave 'hairless wonders'. Collect your change and fund the research for the cure to cancer.

Christina Gancz prepared this short film which was shown to students at Laval Liberty High School in preparation for our annual Terry Fox Cancer Research fundraising drive. Our efforts to raise funds for cancer research continue throughout the year through various initiatives. For more information, see our Change for Change page. In the meantime, enjoy this short film about the greatest Canadian hero. YouTube link

This year (2010), our Terry Fox Run participation took place over three weeks.

Week 1
Students went class to class to educate their peers about Terry Fox and the impact that he continues to have in on our Country and around the world.

Week 2
Phys. Ed class took to the sports field and to the gym to participate and live out the Terry Fox run following the education week as we collected $1 from each student and staff.

Week 3
In an effort to continue the momentum teachers have been showing the NBA star Steve Nash's documentary 'Into the Wind' to our students and leading discussions about who Terry Fox was.

Our efforts to raise funds will continue throughout the year with our Citizenship CHANGE 4 CHANGE project for Cancer Research. Thank you to everyone involved!

---

GLOBAL COMMUNITY – DAVID ROSSI / DANIEL JOHNSON
KANDAHARI SCHOOL – 100% of every dollar we raise for the Afghanistan school will go to school material, lighting, water, de-mining the schoolyard or other needed school or community projects.
HOW: Three out-of-school projects (bagging groceries) will be held to raise at least $2000.00 for the Kandahari school. Collect your change to give a girl the chance to go to school for the first time. Collect your change so that students can drink fresh water.
Collecting your change will help create awareness and action in the lives of our young people.
It is our hope that every teacher will choose one of the four initiatives and educate and involve students in an effort to instill values of respect, inclusion, and action while encouraging them in their academic performance.