Santa Run 2013 - December 12th
For the t
hird year in a row, LRHS students will run 6 kilometer through Lachute. The santa runners will stop at Laurentian Elementary School to deliver candy canes to the children. This year, 50 runners (47 students and 3 staff) are participating and raising money for a local charity. Last year over $600.00 was donated!
Report Cards, Parent Teacher Interviews and Upcoming Ped Days
Report cards are being sent home on Friday, November 15th with the students. Parent teacher interviews will take place on Wednesday, November 20th from 4-5pm and 6-8pm.
LRHS students have no school on Thursday, November 21st and Friday, November 22nd. Please note that the November 21st ped day is an LRHS only ped day and elementary schools may have school that day.
Thanks from the Swim Team
We would like to thank all the sponsors of our LRHS Marlins Swim Team Swim-O-Thon. On October 22nd our team swan 54 kilometers and raised $542. Congratulations to all the swimmers - you gave your all!
To further their fundraising efforts, the team will be soon be selling first aid kits. They will be available starting on Parents/Teacher Interview night on Nov. 20th and will be sold throughout December. Three types are available ranging in price from $8 to $20.
Remembrance Day Ceremony Streaming Live
If you missed our Remembrance Day ceremony, you can still watch it at www.ustream.tv/channel/lrhs-swlsb The video will be available until the end of November.
2nd Annual Dragon's Den Challenge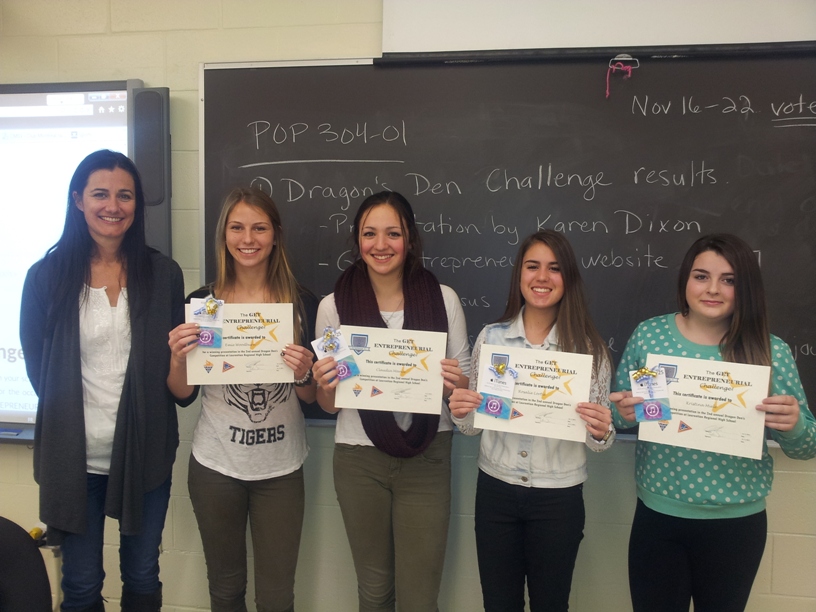 On Friday, October 25th, the students in Ms. Demer's Sec III POP Class took part in the Get Entrepreneurial Challenge sponsored by the Réseau des carrefours jeunesse-emploi du Québec (RCJEQ).
Congratulations Kristina, Claudia, Rosalie and Emie whose School Supply Vending Machine idea won the day!
LRHS Teacher Raises Over $2000 to Fight Breast Cancer
Congratulations to Melissa Chang who bravely volunteered to have her head shaved as part of Virgin Radio's Shave to Save Campaign. The deal was simple - raise over $2000 and representatives from the station would visit LRHS to perform the deed. As of the end of lunch period on Oct 30th, Melissa was sporting a brand new 'do! Congratulations.
You can still donate to her campaign here. Be sure to scroll down and pick 'Melissa Chang' under 'Who would you support?'
CEGEP Info
Click here for a list of CEGEP open house dates and times.
Equestrian Club Fundraiser
The Equestrian Club is a group of students who have a passion for horses. Students do not have to have any past experience with horses to join the club.

We are presently running a Cookie Dough Fundraiser. Click here for details.