IMPORTANT: Please note: This site is no longer updated. If you wish to see the NEW website for LRHS, please click here
Prom Pictures - Class of 2014
Please see below for the link with 690 photos of the 2014 LRHS PROM. This link will remain live for one year year. All 690 photographs are copyrighted to Nik and Alex Schnell. All photographs can be published in Facebook and other social media sites as well as all paper print newspapers, etc; provided a credit is given (e.g. Photo by Nik Schnell) for one calendar year from today (unlimited usage for one year). The photos can be e-mailed or burned onto DVD's. All photographs can be printed as often as you want and for as long as you want - unlimited prints. After August 2015 the photographs may not be printed or published in any shape or form excepting Facebook and similar social media sites. Please do not hesitate to contact me should you have any questions about printing the photographs. pnschnell@hotmail.com
PROM PICTURES <-- click on this link
Sec 4 and Sec 5 Online Access to Exam Marks
As of July 7th, secondary 4 and secondary 5 can access their
MELS exam results online.
For more information, please click here.
School Calendar and Transportation Information 2014-2015
The upcoming school calendar can be found here and busing information will be available online this year. Please see this attachment for more information.
June Bear Clause
Please find the June edition of the Bear Clause here
Summer School Information
Please find the information for summer school 2014 here
Last Day of Classes - June 6th
Please note that the last day of classes for LRHS students is June 6th. Starting on June 9th, please refer to the exam schedule to know when your child has an exam. It is the responsibility of your child to know when their exams are scheduled. Students are not permitted to come to school on days when they don't have exams or tutorials scheduled.
Babysitting Course - June 14th 2014
CLC Lachute is offering a babysitting course for students aged 11-14 years old. In this course, students will learn how to deal with children, how to care for children and basic CPR. The course is from 8:30 AM to 4:30 PM on Saturday, June 14th at LRHS. Cost is $45. Spaces are limited. Click here for more information.
Spartan Sprint Fundraiser - UPDATE
Update: The Spartan Sprint was a huge success! Our students raised $3500. Check out the photos on the CLC Lachute facebook page!
Some of our LRHS students have joined a fundraising Spartan Sprint fundraiser to raise money for the Montreal Children's Hospital Trauma Center. This 5 KM obstacle course will take place on May 16th 2014 in Mont Tremblant. Please support our students by donation to our fundraising page! Our goal is to raise $3000, please help us get there!
Bilingual Presentation for Parents:
Ste-Justine is offering a FREE seminar for parents entitled, "Gérer l'impulsivité à l'enfance et l'adolescence: des solutions pour les jeunes, les parents et les intervenants" on May 29th. Click here for more information
NEW: EXAM SCHEDULE - June 2014
Please verify the Exam Schedule carefully to ensure that you are aware of the dates of ALL your exams. (Link to schedule is below)
Note that the last day of classes is June 6. Exams from May 14 to June 6 are done in regular classes and for the most part, they are on-going. The starting date is given but it will end according to the student timetable.
These exams are extremely important in determining your academic success and in helping to decide your grade level placement for next year. Student presence is mandatory for all exams. Students who miss exams must have a doctor's certificate excusing their absences. An absence as a result of a family crisis may be acceptable also if supported with legal documentation.
Students who have more than one exam scheduled at the same time are asked to complete an Exam Conflict form which is available at the front office. In these situations, the time of the exam will be adjusted.
Parents are strongly encouraged to pick-up their child at 12:30 in the event that s/he has an exam in the morning only.
Good luck to each one of you in preparing and writing this year's exams.
NOTE: From June 2 to June 4, Secondary 5 French students will be doing their French Oral by appointment. The schedule for their oral presentation will be posted in the school.
EXAM SCHEDULE (Revised MAY 7th 2014)
April Bear Clause
The April Bear Clause can be found here
Golf Tournament 2014
The Annual LRHS Golf Tournament will take place September 27th 2014 in St-Andre. Please check out our facebook page about the tournament and give us a 'like' to stay up-to-date on the tournament!
SPARTAN SPRINT Information
LRHS is running a Spartan Sprint to fundraise for The Montreal Children's Hospital. Click here for information about the race! Donations can be made online to students (as well as in-person).
Here is some additional information for LRHS students and parents
LRHS GRAD BUFFET
The annual Grad Buffet will take place on April 30th. Click here for more information! Support our grads!
April Calendar of Events is now available
FREE Online Tutoring Sessions with REAL Teachers: Just in time to prepare for end of year exams, click here for more info.
Parent-Teacher Interviews: Thursday March 13th from 4:00 to 5:00 PM and from 6:00 to 8:00 PM
2014 VARIETY SHOW
Congratulations to the cast and crew for an amazing performance.
Two facebook pages to help keep you up-to-date!
CLC Lachute and it's new club: Argenteuil's Club of Young Volunteers both have facebook pages now! Check out some of the incredible activities that are going on in our school!
Also, Argenteuil's Club of Young Volunteers was recently featured on the TVC d'Argenteuil news. Take a look at the interview here.
VINTAGE LRHS PROMOTIONAL VIDEO!
Recently, there was a discovery of a promotional video that was taken in the late 80s for LRHS. It has circulated from alumni to alumni with wonderful stories and fond memories being shared. Click HERE to see the video!
Upcoming Videoconferences at LRHS offered to the public through CLC Lachute:
Wednesday, March 26th, 1:00-2:30 - Seniors: Protection from Exploitation and Abuse Click here for more information and how to register.
Parenting 101: LRHS is offering a free videoconference through the CLC on February 6th from 7 to 9 PM. Click HERE for more info.
Internet Safety and Digital Citizenship: Disconnect in a Connected World: LRHS is offering a free videoconference through the CLC on February 13th from 6:00 to 8:00 PM. Click HERE for more info.
Parenting a 21st Century Teen Workshop
Today's children are digital citizens and are growing up in a wireless world we could never have imagined. The world is literally at their fingertips! We will have practical discussions about what you should know when it comes to teens and technology, and what you can do to keep the lines of communication open and your children safe.
The Sir Wilfrid Laurier School Board is holding a FREE workshop on parenting in the 21st century on January 21st. Click HERE for more information!
Comedy Night - Fact and Fiction Fundraiser

It's Fact and Fiction Fundraiser for Europe trip time once again! Come on out for an evening of comedy with 3 of Montreal's top entertainers: Derek Seguin, Mike Paterson and Tim Rabnett!
Date: January 31st 2014
Time: Doors open at 7:30 PM
Tickets: $25, call 450-562-8571
Cick here for information!
Christmas Sleigh Ride
On Friday December 20th, the The Equestrian Club is inviting the students of LRHS on a sleigh ride! The sleigh ride will take place at Ranch Robert and one group will be go in the morning, and one in the afternoon. Space is limited to reserve your spot early! Cost is $10.00. Please click on this link for more details: Invitation
Santa Run 2013 - December 12th
For the t
hird year in a row, LRHS students will run 6 kilometer through Lachute. The santa runners will stop at Laurentian Elementary School to deliver candy canes to the children. This year, 50 runners (47 students and 3 staff) are participating and raising money for a local charity. Last year over $600.00 was donated!
Report Cards, Parent Teacher Interviews and Upcoming Ped Days
Report cards are being sent home on Friday, November 15th with the students. Parent teacher interviews will take place on Wednesday, November 20th from 4-5pm and 6-8pm.
LRHS students have no school on Thursday, November 21st and Friday, November 22nd. Please note that the November 21st ped day is an LRHS only ped day and elementary schools may have school that day.
Thanks from the Swim Team
We would like to thank all the sponsors of our LRHS Marlins Swim Team Swim-O-Thon. On October 22nd our team swan 54 kilometers and raised $542. Congratulations to all the swimmers - you gave your all!
To further their fundraising efforts, the team will be soon be selling first aid kits. They will be available starting on Parents/Teacher Interview night on Nov. 20th and will be sold throughout December. Three types are available ranging in price from $8 to $20.
Remembrance Day Ceremony Streaming Live
If you missed our Remembrance Day ceremony, you can still watch it at www.ustream.tv/channel/lrhs-swlsb The video will be available until the end of November.
2nd Annual Dragon's Den Challenge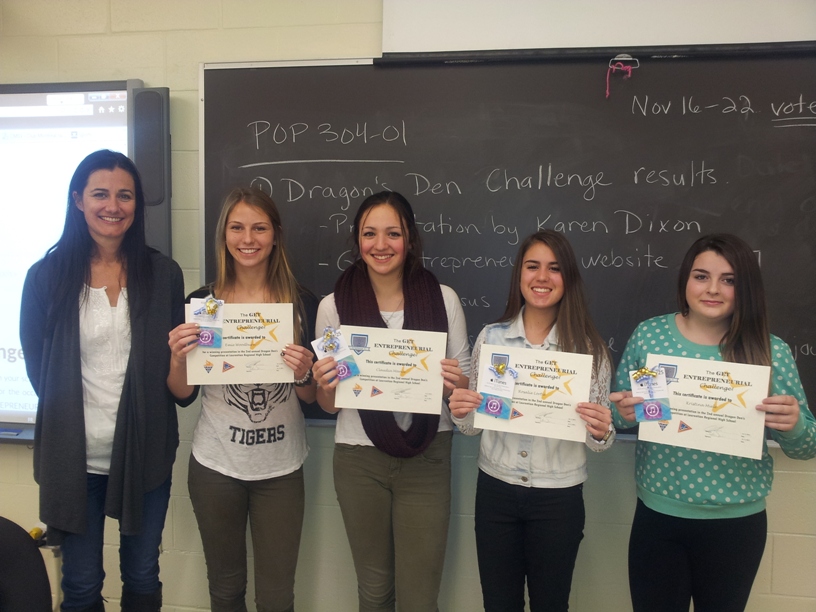 On Friday, October 25th, the students in Ms. Demer's Sec III POP Class took part in the Get Entrepreneurial Challenge sponsored by the Réseau des carrefours jeunesse-emploi du Québec (RCJEQ).
Congratulations Kristina, Claudia, Rosalie and Emie whose School Supply Vending Machine idea won the day!
LRHS Teacher Raises Over $2000 to Fight Breast Cancer
Congratulations to Melissa Chang who bravely volunteered to have her head shaved as part of Virgin Radio's Shave to Save Campaign. The deal was simple - raise over $2000 and representatives from the station would visit LRHS to perform the deed. As of the end of lunch period on Oct 30th, Melissa was sporting a brand new 'do! Congratulations.
You can still donate to her campaign here. Be sure to scroll down and pick 'Melissa Chang' under 'Who would you support?'
CEGEP Info
Click here for a list of CEGEP open house dates and times.
Equestrian Club Fundraiser
The Equestrian Club is a group of students who have a passion for horses. Students do not have to have any past experience with horses to join the club.

We are presently running a Cookie Dough Fundraiser. Click here for details.